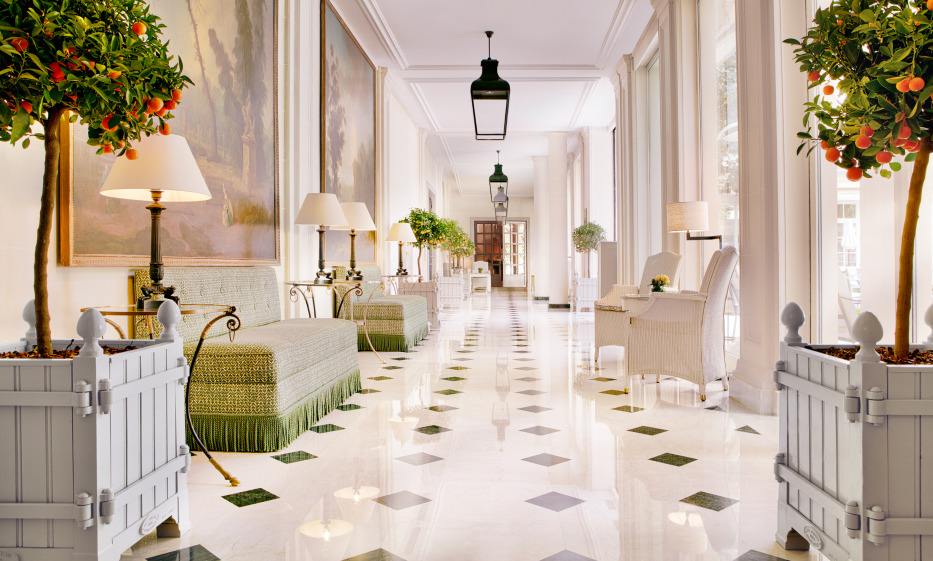 Le Bristol Paris
Paris, France
Close
Close
How about enhancing your hotel stay with tailored benefits ?
112, rue du Faubourg Saint Honoré, Paris, France
Close
Close
How about enhancing your hotel stay with tailored benefits ?









Maybe it's the cat they keep around the hotel. Or, the fact that details like your name, or how strong you like your coffee are remembered from day one…
Whatever the reason, Le Bristol is a hotel that's hard to get out of your system and which after only one stay feels like home. For one it's family owned and it feels like it. Corporate touches are kept at bay (who else would keep a cat on premises?!) with as much gusto as the city's luminaries are welcomed. Nicolas Sarkozy, for example, dined at the Epicure so much that he conferred the Legion d'Honneur on the chef, and models recharge from the runways (and the after parties ) of Fashion Week in the hotel's gardens or rooftop pool. The looks are prestigious as the crowd, an exposé of classic French opulence and elegance (polished marble floors, explosions of colors from the flower displays, and a furniture selection that would fit right in the halls of Versailles) that'll have budding designers taking notes. But the true draw, lies in in its three Michelin Star restaurant L'Epicure. Cut into the Brese Farm Hen. Believe us, the experience borders on the spiritual.
Spa
Fitness
Indoor pool
Kids Club
Gastronomic
Join "Le Club"
As from your first booking
Access to the best available rates
A dedicated Guest Experience Manager (GEM) to craft your itinerary
Room upgrades subject to availability at check-in
To discover your benefits :
or
---
What makes the hotel special
Discover the fantastic atmosphere of this hotel, with its 1200 sqm A la Francaise garden and its rooftop swimming pool with great views of Paris
Do not miss a dinner at the Three Michelin star gastronomic restaurant Epicure, one of the best in Paris
Having lunch in the typical french atmosphere of the 114 faubourg brasserie, awarded with one Michelin Star.
Our selection of rooms and suites
Rooms and Suites
Hotel Information
Practical information
Address

112, rue du Faubourg Saint Honoré , Paris

Internet

Public areas : free

In room : free

Children policy

Children are welcome

Kids Club : free

Check-in / Check-out

Check-in : 3 pm

Check-out : noon

Transportation and transfers

Transfer : subject to supplement

Smoking policy

Non-smoking public spaces

Smoking rooms : not available

Rooms

190 rooms and suites

In-room amenities: iPod dock, flatscreen TV, in-room safe, minibar, complimentary newspaper daily, La Prairie bathroom products

Always included in this hotel

Complimentary Internet

Complimentary Mineral Water in the room upon arrival

Available services

Air conditioned hotel

Laundry service

Concierge service

Pets

Small dogs allowed

Parking

Car park / valet service : €45 per day
Restaurants
Restaurants and bar options

Epicure (Gastronomic restaurant: french cuisine, Breakfast)

Le 114 Faubourg (Restaurant: international cuisine)

Le Café Antonia (Restaurant: french cuisine, Bar, Breakfast, Afternoon tea, Light meals)

Le bar du Bristol (Bar)

Breakfast

Continental breakfast: €45

American breakfast: €60
Spa & Leisure
Spa (Spa Le Bristol by La Prairie)

Massages

Hammam

Leisure

Indoor pool

Fitness center
Feedback (57)
Le Bristol is the finest hotel we have visited. The staff and the service are outstanding. They know what you want even before you do. Leah Marshall, the hotel manager, is superb. We look forward to our return not just because we love Paris but because Le Bristol feels like home and the staff feels like family.

From arrival to departure, Le Bristol delivers a hotel experience like no other.

I think it is absolutely excellent in any possible sense. The attention to the guests is second to none. One detail that always makes me smile: On arrival I had my favourite Dome Chocolate cake served at my room. That is simply amazing! Thank you so much for it. Paris will be always be Le Bristol for us.

We loved it,felt truly pampered but also because of our experience with your website.
It is always a great pleasure to stay at the Bristol. It is a place we love very much. It feels good. Everyone is very attentive, courteous. An absolute fem ! The weather was fantastic, we enjoyed the garden and Café Antonia outside. Still a big thank you for the upgrade. We were "very spoiled" this made the stay even more enjoyable. We will definitely go back in November / December as usual and we're looking forward to it.

If you are looking for the true vibe of Paris this is the place. The service is incredibly good, the food quality is world class ( several michelin starred restaurants), the bars are trés chic and the guests are very elegant. Le Bristol is a place where you find Vogue's Editor in Chief having lunch…

A most enjoyable experience. The staff are excellent across the board.

This is truly a world class hotel in all aspects. It is in fact the best hotel we have ever stayed.

My wife and I, along with our 7 yr daughter have stayed at Le Bristol for the past three years. It is an absolutely wonderful place. It is as beautiful a place as you could want. But what makes this place so wonderful are the people that work there. They make you feel like family. They are truly remarkable from the senior management to the folks that take care of the rooms and facilities. We will stay no where else and will be back there again next year. Please pass out our highest compliments to the General Manager.

We think it is the best in Paris. Very child friendly as well.

A very pleasant stay in a palatial - but very relaxed - setting. It felt like a holiday home in Paris, staffed by friendly and professional people. It was paradise.

Very beautiful. The staff greeted us like long lost friends.

A wonderful hotel in every aspect, which at this level of perfection is rarely found these days.

A hotel of outstanding quality. The staff is very professional and extremely pleasant. We are delighted and charmed.

Whether it's your first stay, or you're a frequent guest, Le Bristol provides a truly exceptional experience unmatched by other hotels. It has become a regular stop of mine on any trip I make to Europe.

I've said it before and I'll say it again, we love le Bristol! It's a magnificent place, with very efficient, friendly, and professional staff who always do their work with a smile.

A palace hotel with a "family" atmosphere which makes it so precious and so warm.

One of the paradise on the earth. I would like to say thank you very very much to all the hotel staff who served us during our stay this time.

The Bristol is an excellent hotel that combines luxury and discretion. The staff will have you feeling comfortable with their warm personality and all smiles attitude.

Very kind and available service in a setting that is nothing short of sublime. A stay in this Palace is like a living daydream.

My fourth visit in a year. No other hotel comes close to the standards Le Bristol sets. From arrival to departure, staff show a genuine warmth and desire to exceed in customer service.

Perfect, exactly what I expect of a palace hotel. The level of luxury and the friendliness of the staff are unrivaled, and it's no exaggeration to call them the best hotel in the world!

I fell in love with this hotel in June and my passion hasn't died since! The staff is extremely attentive to your needs and you get the sense that their kindness is not for show because they're professionals but that it's genuine. A welcome and rare thing in this day and age. It will be a pleasure to come back.

Superb hotel. Pity we could not get a table In Epicure restaurant but not surprising as it was a last minute booking. Staff excellent, lovely decor all faultless

The best hotel ever !!!! Highly recommend and will return if I'm ever in Paris. Fabulous location and staff.

Mon hotel prefere a Paris, absolument fantastatique, l`ambiance de luxe, personnel tres professionnel et tres aimable.

GREAT THANKS. A lifelong memory... We will come back soon.

Le Bristol is a wonderful property with a well trained staff & management team. If we ever return to Paris, we will surely stay at Le Bristol. Outstanding service and property....we look forward to coming back!

I will used it going forward whenever I am in Paris

always perfect. Always sad to leave…

for me, the best urban hotel I know of

Hotel Le Bristol is my home when visiting Paris. It consistently sets the standard to which other hotels should aspire.

The hotel facilities are top of the bill, but it is the staff at the door, the reception, the breakfast room, the 114 restaurant the bar and the claening ladies that make the hotel exceptional.

The Original aspects of the hotel and the exceptional service make Le Bristol Paris the best luxury hotel, not only in the city of lights, but in Europe and in the world. However what makes le Bristol better than the rest cannot be seen with the eyes but is instead felt by the heart. You will find qualities here that go over and above excellent service as the staff have a sincere and heartfelt approach to their work. French "art de vivre" is given capital within these walls and we highly recommend this hotel.

"The art of French living" has a name.. the Bristol Paris! The Palace is a beautiful oasis of happiness and excellence. Currently, the most awarded Palace throughout the city of light ... So you can not go wrong by choosing it. Your dreams will take shape in this timeless gem and extraordinary hotel!

Lovely hotel and extremely friendly staff who went out of their way to make our stay special. Lovely breakfast, room and pool. The pool could be a little warmer as it was a cold winter weekend. I didn't have a chance to try the spa but will next time. The L GEM add ons convinced me to pick this hotel over the various 5* hotels we were considering and the follow up service was excellent.

A great classic and elegant experience overall!

one of the best hotels I ever stayed. the staff is incredible. you do not feel like going out certainly a place to return to.

It was a great stay. We have absolutely no complaints. We will come again.

Overall the best hotel experience from start to finish that I've stayed in for a long time. I think that it could be because we booked the hotel through GLH and not through the hotel directly of other hotel websites. The Concierge and the whole reception team were fantastic and made us feel very very comfortable and welcome. Nothing was too much or a problem. Thanks Le Bristol

Hard to be better anywhere

Great hotel . Wonderful rooms with excellent decor. Bathroom shower was a little disappointing. Food quality and service is excellent and the staff were extremely courteous and helpful. Our shower pressure and shower head was a little disappointing given the hotel standard and other comparable hotels.

Fantastic hotel and all-round experience, apart from the let-down of not having my correct address at check-in and not delivering pre-ordered flowers with breakfast for my wife on our anniversary

Unforgettable experience. Quality of service and friendliness of the staff are exceptional. The hotel is superb as are all the restaurants of the hotel. The cuisine is a delight. The room was spacious, well equipped, faultless taste. Only downsides, bedding not comfortable enough for a hotel of this standard and street noise disturbing at night. Thank you to all the teams of the hotel and restaurants for their competence, their sympathy and their various gestures to my pregnant wife.

We have a fantastic time. The staff could not have made us feel more welcome

lovely hotel. old fashioned yet stylish

The best was the staff (10 points); the lobby is poor and doesn´t welcome you. Overall I considered the decoration not attracting

great food and service,decor a little dated,generally a pleasant stay

Ideally located. The division of labor does not contribute to the effectiveness of the breakfast team. Very nice and perfect hospitality. We will be back and will try to book a table in the garden at Epicure.

We had a perfect time at Le Bristol. Great hotel, perfect service, great food and very friendly staff.

Le Bristol was magnifique. I want to stay again.

Hotel truly exceptional, staff quality is perfect. The only downside : I find a bit petty that wifi is not free, otherwise ... perfect

We go there since several years because it is the best in Paris especially for the friendliness of the staff at all levels

The Bristol is the best luxury hotel I know.
Discover the pleasure of bespoke service
Enjoy the advantages of our "Le Club" membership, and the support of a dedicated Guest Experience Manager for a perfect, tailor-made travel experience.
Call us at
1-855-407-6644
A perfect travel experience
The best hotels, the best service, the best benefits... nothing else.